What is Perspective?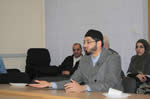 Perspective is a course designed to to encourage conversation between faith and non-faith groups. It gives believers a soap box to talk about what it is they believe and why they believe it and it goes non-believers the chance to ask any burning questions they have about the faith.
The course was developed by Chris Worfolk and first run by Leeds Atheist Society at the University of Leeds in January 2009 and proved to be a huge success with both faith and non-faith communities.
Each session a speaker from a different faith is invited down and the first half of the event consists of them having an open platform to talk about their religion and what they actually believe. The second half of the session is given over to a question and answer session session where attendees are allowed to ask literally any question they have - no matter how tough or controversial.
What makes Perspective different?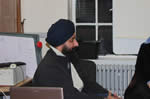 Perspective is successful because it is popular with both faith and non-faith communities. From the believer's perspective they are given an open soap box from which they can discuss their beliefs. From the non-believer's perspective they get the chance to ask any questions they have in an open and non-judgemental environment.
Perspective's approach of no question too tough or controversial means that attendees really can ask any question they want an answer to and allows the speaker to discuss any misconceptions people hold on their beliefs.