Perspective Interfaith Course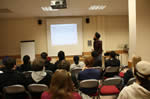 Experience a different perspective - Perspective is an interfaith course which promotes relations between believer and non-believers. It's unique format offers beliefs a chance to take openly and honestly about their faith while non-believers are afforded the chance to ask tough questions to break down misconceptions and promote understanding.
Learn more about what makes Perspective unique.
First piloted in January 2009, the Perspective Course is now available for groups to access and run for themselves. If you are a local group or society interested in running the course, please see our information for societies page.
Perspective covers a wide range of religions and beliefs including Christianity, Islam, Sikhism, Paganism, Buddhism, Baha'i, Wicca, Scientology, Humanism and many others.